Sometimes besides knowing about Gmail, users get confused in login or creating account on gmail.com, which lead users cramped on this site. If you are looking around for 100% working Gmail login sign in guide then you will get the details review about how to use gmail for beginners.  We understand your problems and want to help, so we bring you this article on Gmail login sign in and more. While reading, if you arise with a question, then feel free to ask us at https://www.webtechtutorial.com/ask-question/
Gmail is worlds leading email service provider and many individual users to business house use Gmail Email service for their daily emailing use. If you already have a Gmail Account, you can simply Login with your login credentials. Gmail Login also works if you have any of the Google product account like (Youtube, Adwords or any other google sites). If you are new to www.gmail.com and need help getting started with this site then watch our Youtube videos or read the step to step article tutorial published by WebTech Tutorials.
Gmail Account Login (Desktop)
Having problem with Gmail Account Login?
Let us help you get solution to this problem. Follow steps provided below for getting guided steps on how to login into Gmail account through desktop.
Go to gmail.com on your web browser and enter the official website of Gmail Email. Make sure you land on the official website and not other website URL like gmai.com or gemail.com. The official website for Gmail is: https://www.gmail.com
After you enter the offiical website of Gmail you will be redirected to google website where you will see 'Sign In' button and the top right corner of the website.
Click the Sign In button and you will land on Gmail Login Page where you will need to provide your Email or Phone Number. Make sure you enter the correct login credentials during your gmail sign in process.
In this Gmail Login page you can also change your Language specification and select the preferred language you that is suitable for you.
In case if you are having problem with Gmail account, you can simply click on 'Forgot my Password' link on the login page. Read more about resetting your Gmail account password below in details.

You will now have total access to your emails, which can be accessed on your computer. You can now start sending emails to friends and family from Gmail.
Gmail Mobile Login (Android/IOS)
Mobiles have became one of the easiest and most preferred mode of communication for people in modern life. Due to comfortable size and ease of working through any place any time, these days people are using their mobile phones more than desktop. Installing important Apps on your phone is necessary, Gmail on mobile makes it easy to send and receive email where ever and whenever you want.
Besides this, sometime people get confused in installing and using gmail on mobile. They face difficulties adding email address and composing email too. Well if you are internet beginners and are facing same problems related to using Gmail on your Phone then we can help you sort out your issue and get rid of your confusion on using gmail account on your Android or on IOS mobile device. Follow these steps for better understanding on installing Gmail on mobile.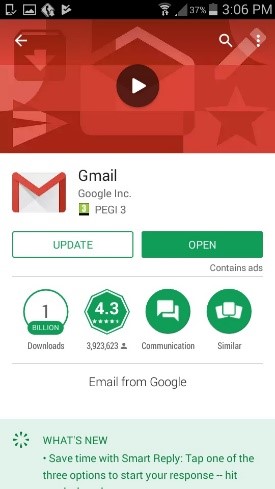 You can find Gmail mobile app on mobile play store if you are using android phone. If you are using iPhone to login to your Gmail then install the gmail app from App Store.
After installation just head out to 'Email Setting' on your device and choose Add Account.
There, you will see various site options, select 'Google' and follow according to the instruction given by the Gmail on your mobile screen.
After entering a valid Gmail email address you will need to enter your password for further process. Proceed to the next step.
When you are done, you will receive Gmail verification mail. You will need to go to the verification link provided in the mail and proceed accordingly to the instruction to complete verification process.
Now you are ready to use mobile version of Gmail installed on your mobile device.
You can also add multiple gmail account on your mobile device by simply clicking on 'Add Accounts'. Gmail Mobile version is easy to use and is very user friendly too. Also it is very convenient to operate from any place and at anytime.
Register Gmail Account (Mobile/Desktop)
Email these days are very important since digital world has taken over many older technologies. If you don't have an email account, you are into lot of digital communication features lacking in your life. If you are new to emailing and thinking about having your own email account, then Gmail might be the best choice. Many users around the world prefer Gmail Account to stay in touch with their friends and families. Also million dollar business deals are emailed on Gmail.
Here is how you can create your own gmail account. Learn how to create Gmail Account Now. Watch the video or refer to the step by step guide shown below:
You will need computer with good internet access and web browser installed in your computer.
Go to the Gmail home page: https://www.gmail.com.
 As you don't have a Google account yet, you need to click on 'Create an Account' in the Sign in section.
To create your account Google need some information about you, feel as instructed. Please make sure you enter real and valid information about yourself as this account may be further used to create other social account for personal or professional use.
You need to write a unique email username before @gmail.com because google will have to check username you have entered is used or not used before, to avoid any miscommunications.
To get to the next steps you will need to Accept Google's privacy and terms, Once you have read it click on I Agree. Google will now ask you to verify your account via text or voice call, Select the option that you want and click on Continue.
If you chose the text message option you will see a new window where you will have to enter the code that Google has sent to your mobile number.
You will automatically be redirected to Gmail Dashboard where you can get google mailing features like inbox, trash, sent mail on left hand side of the page and also be able to compose mail from this list. You can set up a photo to show as your profile picture from picture saved on your computer.
If you like to set up your profile picture click on the profile icon on the top right hand corner of the page and click Change, select the photo you want to be seen on your profile, once you have decided on photo click set as profile picture. You can change the photo whenever you like.
Recover Gmail Account in 3 Minutes
Forgot your Gmail Password? Need to recover or reset your Gmail Password? Well recovering Gmail account password is easy if you have forgotten your password or may be misplaced it.
Here are few proven password recovery steps for Gmail Account which will guide you for password recovery:
Visit this Gmail account recovery link and fill email address that you want to recover and click 'Next'.
In case you forget your email address then provide your phone number that is associated with your Gmail account.
Gmail will open new page where you can click 'Forgot Password?' link.

Now you need to enter any past password that you remember using to  sign in into your Gmail Account.
If you do not remember your previously set password, you can click 'try another way' link and proceed to another way of recovering your Gmail Account.
You will be asked to enter your Phone Number. You can submit your phone number and wait for code to be sent at your mobile device.
In case if you don't have the access to the mobile phone then you can click at 'I don't have my phone' link and you will be redirected to the other option.
There you will see your secret question that you have created while signing up on your Gmail Account. Answer the asked questions if you are familiar with it. If not, see next step.
Don't worry if you still don't remember the secret question answer that you created. You can still try another way of resetting your Gmail Account by clicking on 'Try another way' link.
If you have given any secondary email your reset code will be sent to the given email address that you used while registering your gmail account.
If this still does not help, you can give your email ID in the given box and Gmail will connect to you within few minutes and provide other option of resetting your Gmail Account.
Google will send you confirmation on your another device, if you have login on Gmail account, so if you get this message from google then click Yes to proceed to further.
Want to change password of Gmail Account?
Here is step to step tutorial that will help you change your Gmail account password easily. .
Login to your Gmail Account .
Click Google Account button located on right hand side of the page. This will redirect you towards next page .
Click to Sign-in and Security link.
Scroll down to find password and 'Sign in' option.
Click on option of password. And enter your old password you remembered first and enter your new password you prefer for your account.
Note: You need to enter your old password first to change your password.This is for default security purpose.
Did this tutorial help you with your questions regarding Gmail account? If not tell us what we missed and do connect with us if you need any help regarding your queries.