Do you have multiple Instagram account, one for business , one personal, another one for another business? Or maybe for your pet? Maintaining separate accounts is a highly recommended, yet frustrating and tactic job. Recommended, because Instagram users love to follow laser-focused accounts. Frustrating, because you've had to sign in and out of one account to access another. Instagram finally announced account switching February 8, 2016. And here is the article made for you in which we will cover all the topics mentioned below regarding multiple Instagram account and account switching:
How to create another Instagram account
How to add Instagram Account Switching to existing accounts
Push notifications on multiple Instagram accounts

How can I create another Instagram account?
Yes, you can create a new Instagram account while you're logged into your current account and here is how to.
Note that if you've already created multiple Instagram accounts, you can simply connect them, so skip to the next section.
Follow the steps mentioned below in order to create a new Instagram account that will instantly be connected to your current one:
First up, you need to open your current Instagram account.
Then go to your profile which is on the top right corner of your screen.
Scroll to find "Settings" and tap the gear icon for Settings.
Scroll to the bottom until you see the option "Account" then tap to Add Account.
DON'T fill in the log in screen immediately. At the bottom of the page, you should see the option "Sign Up", just tap on it.
You'll see now an option to use Facebook for sign-up. If you're already using Facebook for your primary account, choose Sign Up With Phone or Email.
Enter your Phone number or Email.Note : DO NOT use the same email or phone for your second Instagram account. Some readers have managed to do this and found themselves permanently locked out of the second account when they forgot their password. You MUST have different emails or phone numbers to recover your account!And, per Instagram, "If you sign up with email, make sure you enter your email address correctly and choose an email address that only you can access. If you log out and forget your password, you'll need to be able to access your email to get back into your Instagram account."
If you choose Email, you'll confirm your new account later. You will get email from Instagram team, open the email and see your inbox to find the mail and select "Confirm your email address".
If you choose Phone, you'll get the verification code in your phone. Once you get the verification code enter the code and then tap Next.
Next up you'll add your Instagram profile photo, Name, and Password.
Now, yow will need to create a unique username for your new Instagram account.You can include dots, dashes, or numbers.
You can skip the remaining steps for now.
So, as you're logged in to your new account, now you can switch to your original account!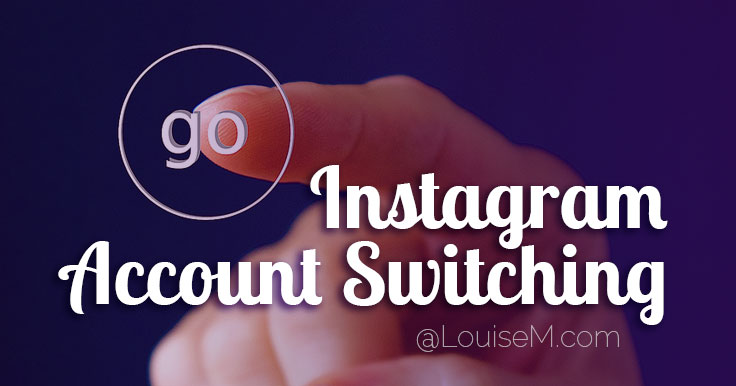 How to add Instagram Account Switching to existing accounts
First of all you need to make sure that the Instagram app in your phone is updated because account switching became available as part of Instagram version 7.15 for iOS and Android. If it is updated but you still don't have account switching, it is found that deleting and reinstalling the app would solve this issue.
You can add multiple Instagram accounts to switch between them without having to log out and log back in and that has made our job easy, isn't it?
To add multiple Instagram accounts: ( We have already discussed it in section above)
First up, Go to your profile and tap the gear or settings icon in the bottom right corner.
Scroll down and tap Add Account. It's near the bottom.
Enter the username and password of the account you'd like to add.
Or log in with Facebook if that's how you set up the other account.
To switch between accounts that you've added:
Go to your profile.
Tap your username at the very top of the screen.
Tap the account you'd like to switch to.
OR you can switch from any tab via your profile picture in the bottom left.
Note that you can add up to 5 accounts on one device.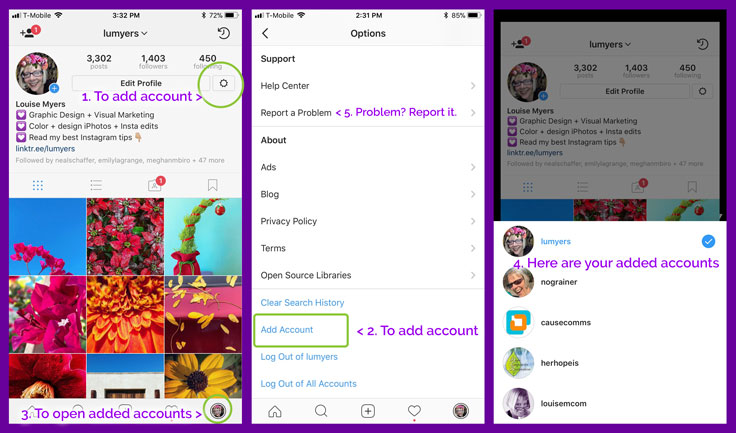 From now on, just tap your Instagram profile picture at the bottom of any panel to switch between accounts. Once you have multiple accounts added, you'll see your profile photo appear in places throughout the app so you can always tell which one you're using at the moment.
How to get Push notification from multiple Instagram accounts?
You can get notifications from any account you like by turning on the push notifications on the Settings section of your respective accounts.This depends on when you last logged in and the number of devices that are logged in to an account. Follow the steps mentioned below to enable the push notifications from your account:
Go to your profile on the bottom right corner.
On the top right corner there is a menu icon (three vertical lines), click on it.
There is a "Settings" option at the bottom of the screen. Tap on the Settings icon.
Now, tap on  "Notifications" .
Then, click on "Push Notification".
Now, you can choose the ways to get notification about your Instagram account on your phone. You can toggle the button to right in "Vibrate for Notifications".
You can also turn off the notification by clicking on "Mute Push Notifications" if you do not want to get notified about the happenings of your Instagram account.
So, account switching in Instagram has been made easy since 2016. This article is all about adding more accounts in your Instagram in addition to your current personal account. We have also discussed about how you can switch between different Instagram accounts. It is also clear that we can get push notification from our multiple accounts.
I hope that you find this article helpful. Stay tuned to our website to be updated about technology related stuffs. We will be posting more stuffs about Instagram app usage and tutorials in the days to come.