In the era of smartphones, it is obvious an individual user will want to create a lot of contents i.e. videos, photos, music, etc. When creating contents is so easy, what else do you need? But, what about when you want to share these contents with your friends, family, and others? Of course, there is emails and SMS as the old standbys, but the people nowadays want direct ways to offer songs, photos, videos, or documents, that too faster and efficiently.
Transferring and sharing files to others have always been a bit of an issue, especially when you have to transfer them between devices running at different platforms.iPhones don't allow Bluetooth file sharing, MacOs has a really bad Bluetooth radio, Android has a quite slow Bluetooth interference and the problem doesn't seem to stop here. The files are often too big for emails, sometimes sharing via public cloud services raises privacy concerns, and most importantly flash drives and DVDs can fall into the wrong hands. This is a quite risky business.
This is why a number of applications have thrived around solving this problem. Estmob, a Korean startup has developed a file-sharing app named Send Anywhere and as the name suggests users can share files of any size and shape with any devices or platforms, with no degradation in the quality of the files.
Introduction:
Send Anywhere is a cross-platform file sharing application which allows users to easily share digital contents peer-peer, in real time, and without cloud storage. It is born out of the urge to solve the common problem of transferring large files between devices.
How has Send Anywhere solved the Large File Sharing Problem?
This file-sharing application solves this problem by supporting a wide range of platforms like Android, iOS, MacOS, Web and Windows, and also by exceeding file size limit to an extent where it is basically unlimited. It provides us with free features and its users can get an ad-free Pro version with a reasonable fee of just $5.99/month. In the Pro version, the app provides 1 TB of storage space, where the user can send files till 50 GB size to any of the devices they want to send to.
File-Sharing Methods of 'Send Anywhere'
The user can send the files via any one of the five methods available in the app. One method is they can use a randomly created 6-digit code and share this code with the recipient on the other hand before it expires. Users can also send a sound wave at a unique frequency to the receiver. The sound wave and the code last for 10 minutes.
Users can also use the 'Share Link' option where files are temporarily uploaded to a link and other users can get access to these files. This feature lasts for 48 hours at most and it is an easy method if you want to send files to multiple users. If a recipient device is connected to the user's device, the files can be directly transferred without any notification. Also, the files can be transferred via Wi-Fi direct if the internet connection is not strong enough. However, the Wi-Fi direct feature is only available for Android devices that are near each other.
What makes 'Send Anywhere' different from other file-sharing applications?
The big attraction of Send Anywhere is that it uses a peer-to-peer method to transfer files, without saving them on any of the servers along the way. Once the files are transferred, it won't be staying on the cloud storage waiting to be discovered by someone else.
The process of transferring file is activated for a short time within which you can share the generated QR code or a 6-digit code with your friend and can share the files once the recipient has entered the given code. Any user can access the shared files as long as they have the QR code or the 6-digit key. You don't have to sign up for the app.
The journey from a 2-person Startup to a Global Company
As of now, Send Anywhere is a global file-sharing app with users from over 237 countries around the world. As per the data from April 2018, the app has been downloaded to 2-3 million devices. Also, the app has been mentioned by online gadget magazine gadgethacks.com as the best file-sharing app for Androids when compared with other similar apps like AirTransfer, WeTransfer, and PushBullet. The Seoul-based file sharing app originally started as a 2-person startup and now it is a thriving global company with over 20 people.
Features of Send Anywhere
You can use this app to transfer files between devices running on different platforms without the usual restrictions of email attachment sizes or the poor speed of Wi-Fi network.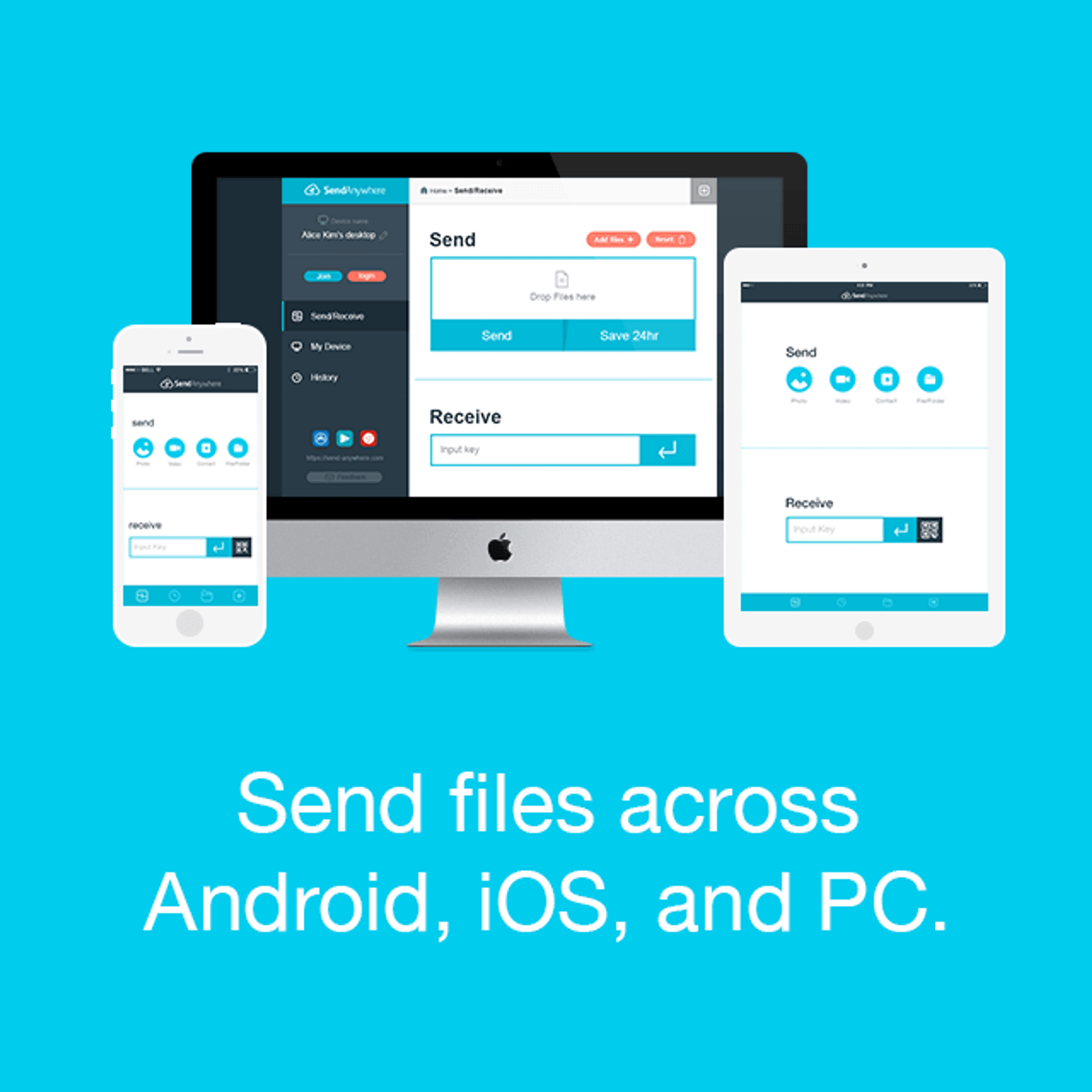 With the Chrome Extension, you won't need to follow the 25 MB attachment limits Gmail sets in email attachments. Send Anywhere can send files up to 10 GB in size easily and directly to the recipient.
There is also an option of Outlook Mail Add-on in the app if that's your preferred email client. Send Anywhere easily removes the 25 MB attachment limit and increases to 10 GB.
If you are using this app on Android devices, you can generate any link shared directly from your favorite messenger. This feature is called 'Quick Link Share.'
Send Anywhere has built-in music and video players in the iOS app. Using this feature, you can send a music file to yourself and directly play it in Send Anywhere.
The video player in this app has the best feature among all. It offers features like swiping to seek a video, swiping up/ down on the left side of the screen to adjust the brightness, and on the right side of the screen to adjust the volume.
There is another feature called the Web Widget. In this feature, you can just go to the Send Anywhere website on your PC and add the files you want to share. You can transfer files directly from the browser using the generated QR or 6-digit code.
CONCLUSION: Overall, Send Anywhere has definitely made it to the top good app list for many when it comes to file-sharing apps, partly because of the fact that it is a cross-platform app, and mostly because it is quite easy to use and has an impressive transfer speed. There is almost nothing wrong with the app and I suggest you give it a try.