Instagram has been thriving since its introduction to the world in October 2010 and has become a go-to place for everyone nowadays. With active users increasing every hour, Instagram has less competition and largely engaging audience than other social media platforms like Facebook and Twitter, according to ecommerceCEO. For instance, Instagram is a global online platform with around 40 billions active users where we can share photos, videos and live stream with our followers.
Around 40 billion active users are something no one can ignore. Big business places, brands have been keeping an eye on Instagram since it has proven itself to be a powerful marketing tool to promote and thrive one's business. If you aren't thinking about setting up an Instagram account for business, then you are probably lagging behind in this competitive world. If you are still unaware about setting up a business account, let's learn some benefits about setting up an Instagram business account. Maybe this will influence you in some way. If you are here to know how to set up an Instagram business account, head directly to the next heading.
Reasons to Use Instagram as a Marketing Tool:
More people are using Instagram. With 80 million users increasing every now and then, there is no way you can ignore Instagram. You will never want your products or your business to remain unseen. It is good to work according to time.
Any size of business can thrive. Even a large business cannot succeed overnight. It requires time and effort. Keeping your online presence will help you to grow.
Businesses can make money directly from Instagram. Instagram allows you to add tags to your products with the link to the product's information, prices and 'Shop now' that will take users to your online store.
Stories make businesses more relatable. Posting Instagram stories can help you influence your followers. Post videos about how the product is made or what are its compositions. It is a great way to show what kind of product it is.
You can partner with influencers. Partnership with some great brands on Instagram can help you get the exposure you need.
Hashtags can increase your visibility. Following the latest trending hashtags will make you visible to a large group of active users. Posting photos or videos with the popular hashtags can do you just good.
You can engage with the customers effectively. People are more into online shopping these days. They prefer to search for products and their information online. So, you can communicate with your customers more effectively.
Mobility is essential. Since Instagram started as an app, unlike other social media platforms like Facebook, people find it easier to use. With engagement on Instagram being 10 times higher than that on Facebook and Twitter, it is the best place to promote your business.
Being on Instagram can help you keep an eye on your competitors. See the contents they post and their posting time and come up with a better strategy to uplift your business.
It offers many ways to get creative. Your brand's team can come up with new ideas to get more followers and new customers on Instagram. Bring up new contests, shoutouts, vivid images and videos to show your cool personality.
If you are still not satisfied, there is no way you can be influenced.
How To Set Up An Instagram Business Account?
Let's learn how you can set up an Instagram Business Account. Simply follow the steps below and you will have your very own business account in no time. If you are new to Instagram, you can learn about the basics first here.
You can use your own account and turn it into a business account if you have one. If you want a new account, you will have to follow the process of signing up. Sign up with either your phone number or email and continue the processes. If you have a Facebook account, you can easily log in with Facebook.
You will start with your personal profile. To use Instagram for your business, you have to connect your account to a Facebook business page first. If you haven't created a Facebook business page yet, that's not a problem. You can go hand in hand. When you get options to choose a page, click on 'Create new one' at the bottom of the screen. Now, set a title for your page and choose the category that best describes your business. It's not always important to have a Facebook Business Page though.
To connect your Instagram account to your Facebook Business Page, click the profile icon at the bottom right of the screen. You will enter to your profile page where you will see a hamburger menu ( three lines icon). Click on it. You will see Settings at the end of the screen.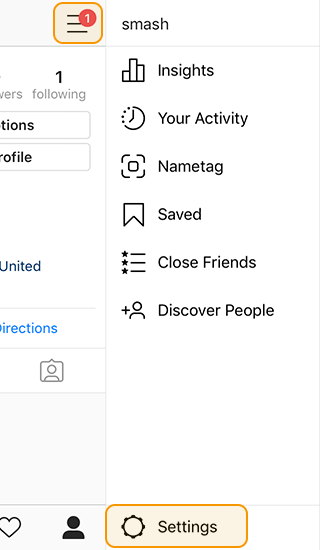 Next, go to the settings and scroll down until you see 'switch to a Business account.' The other option you will see is 'Sign up for a Business Profile.' You can choose the one you want.
You will be taken to the Welcome page. You can click on 'continue' to move forward.
Now, choose the best category for your business profile, click on it and select 'Next.'
Instagram will ask you to check if the information you provided is correct. You can change the information if there is any mistake.
By now, you will get a confirmation from Instagram asking to switch to a business account. If you are ready, click on OK. If not, there is always an option to Cancel.
Now, you will be asked to create a Facebook business page if you don't have one. If you don't want to connect your Instagram Business account to Facebook, that not a problem too. There is an option at the end of the screen.
CONCLUSION: Your Instagram business is set up and ready to use. Manage your profile and add the information that needs to be added. Request users to follow and start posting. Keep your post updated and you are good to go.